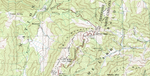 Every great and successful company has a story, a why. Alt Route Meals is a company that was born out of passion and out of many great stories. The places I have been fortunate enough to explore over the past decade have shaped me in immeasurable ways, and they are inevitably a huge part of the Alt Route story. 
Many of you will remember our first era of packaging in year one. Each of the labels on the 7 different meal offerings were printed with a specific topographic maps as the background. This was one of the most intentional, yet subtle, things about our packaging. The big idea here was to release related content as we did a feature on each of the meals. As I have learned this past year, things do not always go according to plan. 
We have pivoted to a new look in this new year of business, and have decided to forego the topographic maps on the packaging that you will now see moving forward. These stories of inspiration that are directly related to each meal though are alive and well! We still plan to share these with you. They are educational, inspiring and some are down right ridiculous. 
Over the course of the next few months we will be sharing these stories with you! It will help you to understand more about the places that have inspired us over this journey in bringing Alt Route Meals into your life and into your packs. Stay tuned for monthly updates!