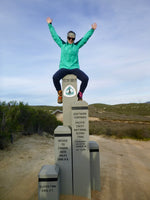 Alt Route Meals is more than another dehydrated food company. It is a story, a passion, and an experience. After a decade of 6,000+ miles hiked, over 100 peaks bagged and 6 out of 7 continents lightly explored, I had finally discovered the missing link. There were not enough options for plant-based, health conscience athletes and travelers. The time for boring flavors, unpronounceable ingredients and disappointing meals at the end of the day was done for me.
In the summer of 2018 I began working on a series of recipes to support myself on a year of upcoming adventures. Before I knew it the kitchen and dining room had turned into a small factory with every vegetable, grain, spice, appliance, dehydrator and storage container you could imagine strewn about everywhere. I spent the remainder of that summer doing real time product testing in the Colorado Rockies.
As the summer drew to a close I was left with 7 recipes that were going to support me along my 2019 adventures of summiting Kilimanjaro and thru-hiking the Pacific Crest Trail. After several months of miles walked, peaks bagged, and meals consumed I was left with the realization that this chapter was about to come to an end. As most adventures draw to a close we are left with an unrivaled sense of accomplishment and satisfaction, accompanied by a void and the inexplicable nagging question of 'What now?'  For me, I had discovered the answer and it was drawing me back home. 
I relocated back to my home state of Tennessee to make Alt Route Meals a dream come true. I knew I couldn't do it alone, so I did what any good daughter would do. I recruited my wonderful mother to the team and we began our first family business. I am proud to say that Alt Route Meals is company that has been built from a core set of standards from the beginning. Family. Sustainability. Conservation.